A pipe nipple is a short piece of pipe usually with external/male threads in both ends or in one end for connecting two other pipes or fittings. The threads at two ends can be the same or different types, such as NPT thread to BSP thread nipples are also exist. And it is one of the most popular categories of pipe fittings, a combination of pipe nipples is recommended for low-pressure discharge and suction service for various compatible liquids and not for compressible products like air, nitrogen, or steam.
Pipe Nipple Types
Hebei Sanvo is a quality pipe nipple manufacturer, supplier, exporter, wholesaler, factory, company, and the pipe nipples have many types. There are carbon steel pipe nipples, stainless steel pipe nipples, galvanized steel pipe nipples, black steel/iron pipe nipples, welded pipe nipples, seamless pipe nipples. And the length of the nipple is usually specified by the total length of the threaded portion. Also, it may have a hexagonal section in the center for a wrench to grasp (we call hex nipple), or it may simply make from a piece of straight pipe (we call it to barrel nipple or pipe nipple). When the nipple ends are of two different sizes it is called a reducer or unequal nipple, and threads used on nipples are BSP, BSPT, NPT, NPSM, and Metric.
Pipe Nipple / Barrel Nipple
The basic type of steel pipe nipple is a short piece of pipe with threads at both ends and which is un-threaded in the middle. Its function is to connect pipes or other fittings in the same diameters. We also call the basic type as barrel nipple or pipe nipple. It can be simply made from a piece of pipe.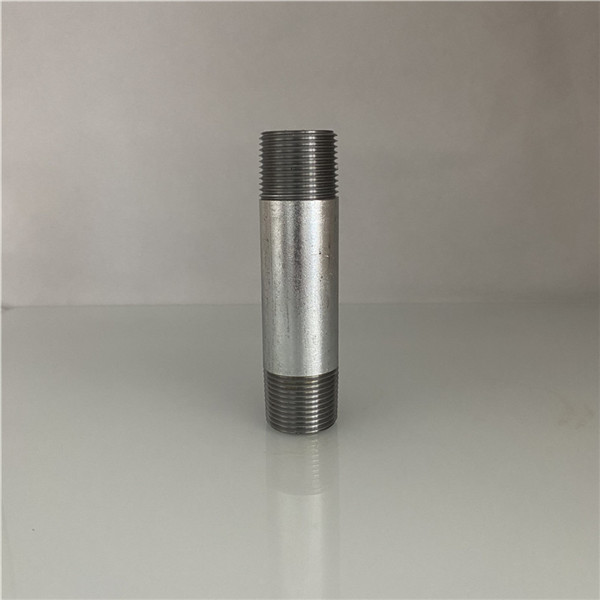 Hex Nipple
If the center section of a pipe nipple is hexagonal bolt shape, it is a hex nipple. The hex part is useful for a wrench to grasp when needing torque, tighten, or loose.
Close Nipple / Running Nipple
A close nipple or a running nipple is a pipe nipple with full-body threads and used to establish a tight connection between pipes or fittings, when screwed tightly between two female fittings, very little of the nipple remains exposed.
It should be noted that when using a closed nipple, you need to grasp the threaded part with a wrench, but this will damage the thread and cause leakage. So, you need a specialty tool known as a nipple wrench (or known as an internal pipe wrench) which grips the inside of the pipe, leaving the threads undamaged.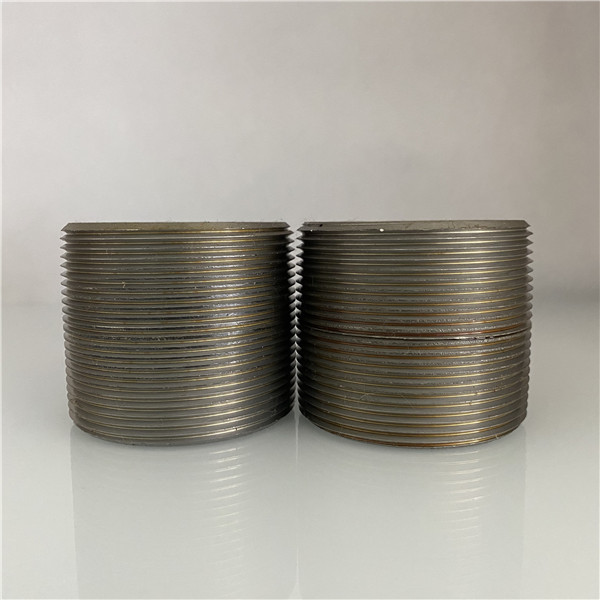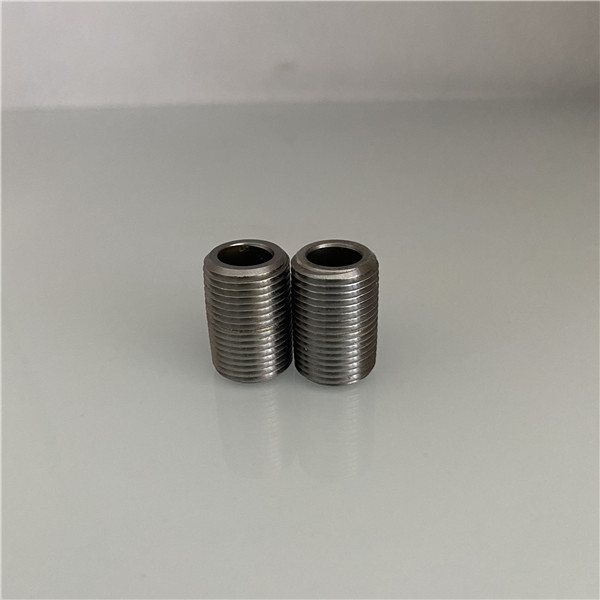 Hose Nipple
There is a special style of pipe nipple called a hose nipple used for connecting threaded pipes and smooth hose. One end of the nipple is an external thread and the other end is a hose barb. The size of the hose barb can be the same as the size of the pipe connection, or it can be reduced.
Other Types Of Pipe Nipple
There are also other pipe nipple types such as welding nipple (has one threaded end and one welded end) and flange nipple ( can be considered as a combination of nipple and flange ).
Our Supply Range For Pipe Nipples
The working pressure of pipe nipples will vary with the size and construction of the pipe, the type and number of clamps used, clamp placement, proper installation of clamps, temperature, and the product being conveyed. Pipe nipples are available in the widest variety of wall thicknesses and materials in the industry.
1, Material: Carbon steel, Stainless steel;
2, Standards: ASTM A733, DIN2982, BS EN10241;
3, Dimensions: 1/8"-8", DN6-DN150, 1/8"-6";
4, Finish: Black, Galvanized.
Pipe Nipple Application
Pipe nipples are used as pipe fittings in various industrial pipeline connections.
1, Chemical processing industries
2, Petrochemical
3, Pharmaceutical
4, Food & beverage
5, Pulp & paper
6, Shipbuilding/marine
7, Waste incineration
8, Machine building
9, Architectural
10, Semiconductor, etc.
Pipe Nipple Standard
Hebei Sanvo exports various standards of steel pipe nipple, including carbon steel pipe nipple, stainless steel pipe nipple, welded pipe nipple, seamless pipe nipple, American standard steel pipe nipple, German standard steel pipe nipple, British standard steel pipe nipple, etc.
1, ASTM A733 Standard Steel Pipe Nipple
(1)Carbon Steel Pipe Nipple (black steel pipe nipple and galvanized steel pipe nipple)
Material: ASTM A53/ASTM A106 steel pipe standard specifications;
welded and seamless; black and hot-dipped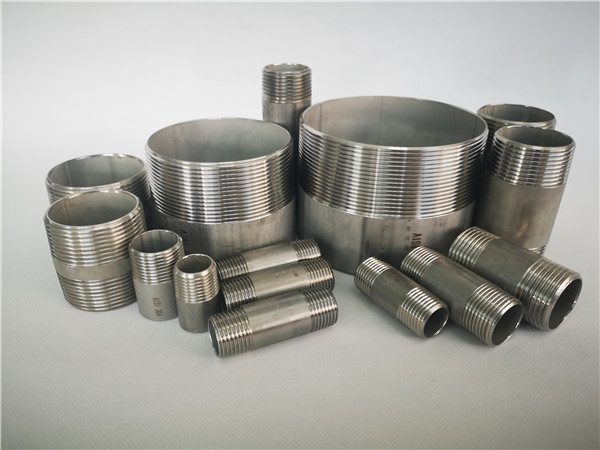 Thread: ANSI/ASME B 1.20.1
(2)Stainless Steel Pipe Nipple
Material: ASTM A312, 304/304L or 316/316L; welded or seamless
Thread: ANSI/ASME B 1.20.1
2, DIN2982, BS EN10241 Standard Steel Pipe Nipples
Carbon steel/stainless steel; DIN2440/BS1387; welded and seamless
(1)DIN2982 Standard Steel Pipe Nipple
Material: DIN2441 seamless or welded pipe; DIN2440 seamless
or welded pipe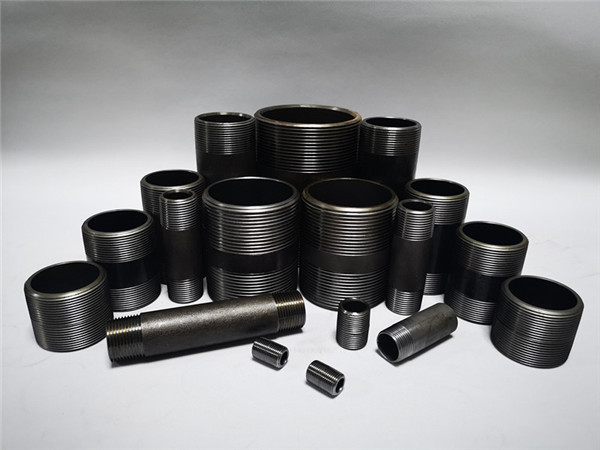 Thread: DIN259; DIN2999
Finish: black, galvanized, and hot-dipped
(2)BS EN10241 Standard Steel Pipe Nipple
Material: BS1387 seamless or welded pipe
Thread: ISO 7/1 or BS 21
Finish: black, galvanized, and hot-dipped
Pipe Nipple Dimension Standard
The pipe nipple has different dimension standards according to different thread manufacturing standards. And the threads have different types. The most commonly used types are NPT threads and BSP Threads. NPT is an American standard tapered thread, while BSP is a British standard thread. BSP thread has tapered type BSPT and parallel type BSPP.
NPT Pipe Nipple Dimension Standard

BSP Pipe Nipple Dimension Standard

Material Grades of Steel Pipe Nipples
Hebei Sanvo pipe nipples are made of high-quality carbon steel ( galvanized, black ) and stainless steel ( 304, 316 ).
Carbon Steel Pipe Nipple
ASTM/ ASME A 105, ASTM/ ASME A 350 LF 2, ASTM / ASME A 53 GR. A & B, ASTM A 106 GR. A, B & C. API 5L GR. B, API 5L X 42, X 46, X 52, X 60, X 65 & X 70. ASTM / ASME A 691 GR A, B & C
Stainless Steel Pipe Nipple
ASTM A182 F304/ 304L, F306/ 316L, F309S/309H, F310, F317, F321, F347, F347H, F454L ASTM A312/A403 TP304, TP304L, TP316, TP316L
Hebei Sanvo Pipes And Fittings Co., Ltd. is located in Cangzhou City, Hebei Province, China. It was engaged in the production and research of pipe nipple, pipe coupling, and stainless steel pipe fittings in 1997. We always insist on survival by quality and development by reputation. After years of unremitting efforts, we have become a professional pipe fittings manufacturer in our region. Our products are widely used in the field of gas, oil and gas, water, fire, HVAC, mines, petroleum, and other fluid transportation. So, if you are interested in pipe nipples or other threaded pipe fittings, please do not hesitate to contact us immediately by email: info@pipenipples.com, and we look forward to your news.